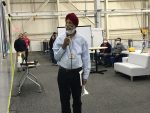 Rachpal Lehal retires after 54 years of combined service! Rachpal Lehal prends sa retraite apres 54 ans de service combinée!
After 7 years working for Rolls-Royce in the UK as a fitter, followed by 7 years working as a fitter at RRC (LL869), then 40 years working as a Planner/Repair Technician for RRC and Siemens (LL2468), Rachpal has decided that it was time to retire.  I worked with Rachpal for several years on 2nd shift when I first started at RRC back in the mid-90s, and he helped me learn about the IAMAW!
Due to the COVID situation, the retirement celebration held on October 30 2020 was limited to a few employees but was broadcast via MS Teams to all of Siemens Energy Canada AGT.  Rachpal was presented with a commemorative symbol of engine parts (created using additive manufacturing or 3D printing) by Martin Rousseau, his manager.  He was also presented with a retirement card, gift certificate and retiree pin by George Zoni.
We wish Rachpal all the best in his future endeavors!  After 54 years of service, you deserve it!!!
Après 7 ans de service chez Rolls-Royce au Royaume-Uni en tant que monteur, suivis de 7 ans en tant que monteur chez RRC (LL869), puis 40 ans en tant que planificateur / technicien de réparation pour RRC et Siemens (LL2468), Rachpal a décidé qu'il était temps de prendre sa retraite. J'ai travaillé avec Rachpal pendant plusieurs années en 2e quart de travail lorsque j'ai commencé chez RRC au milieu des années 90, et il m'a aidé à en savoir plus sur l'AIMTA!
En raison de la situation COVID, la célébration de retraite qui a eu lieu le 30 octobre 2020 était limitée à quelques employés mais a été diffusée via MS Teams à l'ensemble de Siemens Energy Canada AGT. Rachpal s'est vu remettre un symbole commémoratif de pièces de moteur (créé par fabrication additive ou impression 3D) par Martin Rousseau, son gestionnaire. Il a également reçu une carte de retraite, un chèque-cadeau et une épinglette de retraité de George Zoni.
Nous souhaitons à Rachpal tout le meilleur dans ses projets futurs! Après 54 ans de service, vous le méritez !!!