IAM MAP/EAP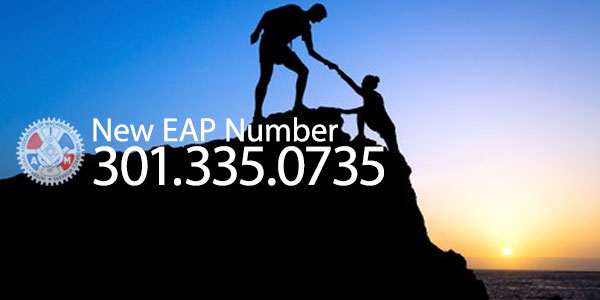 The central purpose of unions has always been to respond to workers' needs and concerns. Unions have a history of establishing and promoting community initiatives that improve the lives of workers and their families.
The growing disease of substance abuse, addictions, mental health, stress, depression, financial hardship, including but not limited to socioeconomic issues, are serious problems that hinder quality of life for many of our members.
Member and Employee Assistance Programs (MAP/EAP) essentially have the same objective: to assist workers and their families through prevention, intervention, assessment, directed care and follow-up services for problems that adversely impact workers' lives.
MAP and EAP programs evolved from labor-initiated efforts to educate members and employers that debilitating personal problems should be approached as any other health care concern.
Ideally, employers will cooperate with the union on equal basis to tackle the drug, alcohol, mental and emotional issues that affect workers' lives, the workplace and the community at large.
Where an employer will work with the union, we have an EAP. When the employer will not or cannot participate equally with the union; we have an MAP. Regardless of the latter, the IAM provides a CONFIDENTIAL service that will help members in need.
This service is available to all IAM members, staff and family members.
You may reach the confidential IAMAW EAP/MAP Helpline by calling 301-335-0735 or emailing iameap@iamaw.org.
L'objectif central des syndicats a toujours été de répondre aux besoins et aux préoccupations des travailleurs. Les syndicats ont l'habitude d'établir et de promouvoir des initiatives communautaires qui améliorent la vie des travailleurs et de leurs familles.
La maladie croissante de la toxicomanie, des dépendances, de la santé mentale, du stress, de la dépression, des difficultés financières, y compris, mais sans s'y limiter, les problèmes socio-économiques, sont de graves problèmes qui nuisent à la qualité de vie de bon nombre de nos membres.
Les programmes d'aide aux membres et aux employés (MAP / EAP) ont essentiellement le même objectif: aider les travailleurs et leurs familles par des services de prévention, d'intervention, d'évaluation, de soins dirigés et de suivi des problèmes qui nuisent à la vie des travailleurs.
Les programmes du PAM et du PAE découlent des efforts lancés par les syndicats pour informer les membres et les employeurs que les problèmes personnels débilitants doivent être abordés comme toute autre préoccupation en matière de soins de santé.
Idéalement, les employeurs coopéreront avec le syndicat sur un pied d'égalité pour lutter contre les problèmes de drogue, d'alcool, de troubles mentaux et émotionnels qui affectent la vie des travailleurs, le lieu de travail et la communauté dans son ensemble.
Lorsqu'un employeur travaillera avec le syndicat, nous avons un PAE. Lorsque l'employeur ne participera pas ou ne pourra pas participer de manière égale avec le syndicat; nous avons la PAM. Indépendamment de ce dernier, l'AIM fournit un service CONFIDENTIEL qui aidera les membres dans le besoin.
Ce service est disponible pour tous les membres de l'AIM, le personnel et les membres de la famille.
Vous pouvez contacter la ligne d'assistance confidentielle de l'AIM PAE /PAM en appelant le 301-335-0735 ou en envoyant un courriel à iameap@iamaw.org.