Following the mysterious disappearance of the LL2468 gavel during the union office move of 2014, two collaborators surprised LL2468 members during the MGM of September 12, 2017 with a replacement gavel.
Ed O'Flaherty, retired 2468 member and 2468 retiree representative, sought out the support of skilled woodworker Mark Currin, Project Manager, to fashion a new gavel for 2468.
When asked by Ed how LL2468 could repay Mark, Mark had this to say:
"Thanks Ed.  If you remember I have been indebted to you for around 15 years. As a new comer to Canada you came to help and I appreciated that perhaps more than I have mentioned.
The gavel was just a gift of appreciation mostly to you but also to your fellow Canadians for welcoming me and my family here all those years ago.  Immigrating to Canada changed our lives and we now call it home.
I enjoyed making the gavel.  I had not made one before so I spent some time exploring designs on the internet; there is no cost and if there was I would still give it you.  For me the joy was seeing everyone smile.  You never know I might get a commision to make something else but honestly if ever I can help you or you want a piece of my work on your mantlepiece you only have to ask."
From the members of LL2468, Thank-you Mark!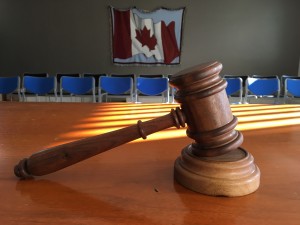 À la suite de la disparition mystérieuse du marteau SL2468 lors du déménagement du bureau syndicale en 2014, deux collaborateurs ont surpris les membres de SL2468 lors de la réunion mensuelle du 12 septembre 2017 avec un marteau de remplacement.
Ed O'Flaherty, membre à la retraite de 2468 et représentant des retraités de 2468, a demandé le soutien du menuisier artisanale Mark Currin, gérant de projets, pour fabriquer un nouveau marteau pour 2468.
Lorsque demandé par Ed comment la SL2468 pouvait rembourser Mark, Mark avait ceci à dire:
"Merci Ed. Si vous vous en souvenez, je vous suis redevable depuis environ 15 ans. En tant que nouveau venu au Canada, vous êtes venu a mon aide et j'ai apprécié cela peut-être plus que ce que j'ai mentionné.
Le marteau n'était qu'un cadeau d'appréciation principalement pour vous, mais aussi pour vos concitoyens canadiens pour l'accueil de ma famille ici tous ces ans.  Immigrer au Canada a changé nos vies et nous l'appelons maintenant notre pays.
J'ai aimé faire le marteau. Je n'avais pas fait un avant alors j'ai passé du temps à explorer des dessins sur Internet; il n'y a pas de frais et, s'il y avait, je le donnerais toujours. Pour moi, la joie était de voir les sourires. Vous ne le savez jamais,  je pourrais avoir une commission pour faire autre chose, mais honnêtement, si jamais je peux vous aider ou vous voulez un de mes oeuvres sur votre manteau, il ne faut que demander."
Des membres de la SL2468, Merci Mark!