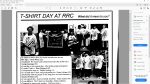 After 30 years of dedicated and loyal service to RRC and as a member of LL2468, Juliette aka "Cookie" has taken her much-deserved retirement.  I met Cookie when I first started at RRC in 1993, and I'll always remember how she was always smiling and always willing to help in any way she could, be that in her RRC position as Technical Librarian or as the LL2468 Recording Secretary.  Cookie started as a Secretary in 1990 and transferred to Document Controller shortly thereafter; she then became a Technical Librarian in 1992, and in that position she completed her career at RRC.
Cookie was never one to seek attention, but she was the person who made so much happen behind the scenes at the Union office, during her 10 years as Recording Secretary.  Whether she was getting all the documents ready for our various union meetings or ensuring that the bills got paid, she was an invaluable member of the 2468 Executive.
We wish Juliette a very happy and well-deserved retirement, and we hope that she will drop in from time to time for a visit!
Après 30 ans de service loyaux auprès de RRC et en tant que membre de la SL2468, Juliette alias "Cookie" a pris sa retraite bien méritée. J'ai rencontré Cookie quand j'ai commencé chez RRC en 1993, et je me souviendrai toujours à quel point elle était toujours souriante et toujours prête à aider de toutes les manières possibles, que ce soit dans son poste de bibliothécaire technique chez  RRC ou en tant que secrétaire archiviste pour la SL2468. Cookie a commencé comme secrétaire en 1990 et a été transféré au contrôleur de documents peu de temps après; elle est ensuite devenue bibliothécaire technique en 1992 et à ce poste, elle a terminé sa carrière chez RRC.
Cookie n'a jamais été du genre à chercher l'attention, mais c'est elle qui a fait tant de choses en arrière-plan au bureau de la section locale pendant ces 10 ans en tant que secrétaire-archiviste. Que ce soit pour s'assurer que tous les documents étaient prêts pour nos diverses réunions syndicales ou pour que les factures soient payées, elle était une membre inestimable de l'exécutif 2468.
Nous souhaitons à Juliette une retraite très joyeuse et bien méritée, et nous espérons qu'elle passera de temps en temps pour une visite!