Matt McGinn and Georges Ghetler Retire!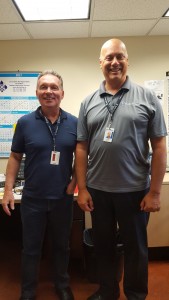 Happy Retirement Matt McGinn
After thirty eight years Matt has decided to retire and enjoy life. Matt started at Rolls Royce on November 29, 1979. Matt started to work in the print shop as a print operator. Matt then was promoted to become the Print shop Coordinator in 1998, he did a great job and handled the load with a smile and speed and quality.
In 2002 Matt became a Technical assistant the position he occupied till his retirement.
IN 2008 Matt decided to get involved in the union and joined the negotiating committee and also the grievance committee.
In 2015 Matt became the Vice President of the Lodge and stayed also as a grievance member, and started his last negotiation round.
I would like to take this opportunity to Thank Matt for his valuable contribution on the grievance committee and negotiation.
Wishing you a happy healthy peaceful retirement, enjoy it.
Georges Ghetler
My life at Rolls-Royce started on November 22, 1988 as a welder. My first supervisor was Jacques David , Stéphane's dad and my first lead hand was René D'Amico, Paul's dad. I spent 11 years on the shop floor when the decision was made to move our computer system from legacy to SAP. I quickly volunteered because it sounded like a new challenge that I thought would suit me. I spent 12 months writing SAP scripts and providing training.
When I realized that I didn't want to go back to welding, I applied for a job in Inspection Support which I did for just over one year but it wasn't exactly what I was looking for.
An opportunity opened up in the Quality Department and I was exhilarated when it was offered to me in 2002. I have been in this department since, working first for Robert Bélanger, then Benoit Manseau, Elena DiFrancesco, Bertrand Audi, Isabelle Caron, Bill Mateer, Pascal Couture, Irina Grigore and now, shortly before retirement, back to Robert.
I contemplated retirement a short while ago but flip-flopped about when I should go. When I finally set my date for June 30, the countdown was on.
I've had a great life at Rolls-Royce. They've allowed me to by my house, my Mustang, my Harley and many other toys and southern vacations. The greatest thing I have to thank Rolls for though is giving me the opportunity to meet and marry my beautiful wife, Julie.
There have been some ups and downs in the last 29 years but I would never give it up for anything.
The LL2468 Executive wishes all the best to Matt and Georges for their retirement.