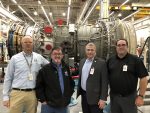 For the first time since Siemens AGT was created, IAMAW GVP, Canadian Territory, Stan Pickthall, and Chief of Staff, Gordon Falconer, visited Siemens AGT on October 10, 2019. Stan and Gord were accompanied by myself, Daren Legault and Michel Vincent (Shop Committee, 869) at the Courval site, and with Michael Munn at the 9505 Cote-de-liesse site. We then visited Test Bed 7 in Verdun to conclude the visit.  It was a pleasure to introduce Stan and Gord to several 2468 and 869 members!
Pour la première fois depuis la création de Siemens AGT, VPG AIMTA, territoire canadien, Stan Pickthall, et le chef du personnel, Gordon Falconer, ont rendu visite à Siemens AGT le 10 octobre 2019. Stan et Gord étaient accompagnés de Daren Legault et Michel Vincent (
Délegué syndical, 869) au site de Courval et avec Michael Munn au site du 9505 Côte-de-Liesse.
Nous avons ensuite visité le banc d'essai 7 à Verdun pour conclure la visite.
Ce fut un plaisir de présenter Stan et Gord à plusieurs membres de 2468 et 869!