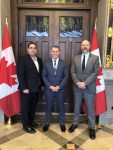 Once again, the IAMAW contributed the most participants from any one union in Canada: 84 of 400 union representatives for the CLC annual lobby day were Machinists!  This marks the third time in as many years that the IAMAW led the way for lobbying efforts on Parliament Hill.
Encore une fois, l'AIMTA a contribué le plus de participants d'un syndicat au Canada: 84 des 400 représentants syndicaux pour la journée de lobbying annuelle du CTC étaient des Machinistes! C'est la troisième fois en autant d'années que l'AIMTA ouvre la voie à des efforts de lobbying sur la Colline du Parlement.

This was another great opportunity to raise awareness and educate MPs on the issues currently facing many Canadian workers: Universal pharmacare, pension protection, contract-flipping, $15/hour minimum wage, violence in the workplace and the IAMAW aerospace strategy.
IAMAW representatives met with MPs from NDP, Liberal, Conservative and Bloq ridings.
Ce fut une autre excellente occasion de sensibiliser et d'éduquer les députés sur les problèmes auxquels font face actuellement de nombreux travailleurs canadiens: assurance-médicaments universelle, protection des pensions, renversement de contrat, salaire minimum de 15 $ / heure, violence en milieu de travail et stratégie aérospatiale de l'AIMTA.
Des représentants de l'AIMTA ont rencontré des députés des circonscriptions NPD, libérales, conservatrices et Bloq.
Visit iamaw.ca and canadianlabour.ca for more details!
Visitez iamaw.ca et canadianlabour.ca pour en savoir plus!
Keep tabs on your MPs here: openparliament.ca